Dominican Republic Wedding Traditions: Incorporating Local Culture into Your Wedding Day
A destination wedding in the Dominican Republic not only offers a stunning backdrop of turquoise waters and sandy beaches but also a chance to embrace the rich cultural heritage of this Caribbean gem. Incorporating local Dominican Republic wedding traditions into your wedding day adds a touch of authenticity and creates an unforgettable experience for you and your guests. Here are some enchanting traditions to consider infusing into your wedding celebration.
Arras Ceremony as a Dominican Republic Wedding Tradition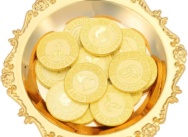 The Arras ceremony is a cherished Dominican Republic wedding tradition symbolizing the couple's commitment to one another and their shared prosperity. During the ceremony, the groom presents thirteen gold coins to the bride, which she then accepts as a symbol of trust
and mutual support. The coins are usually placed in a decorative box or pouch, signifying the couple's joint responsibility for their future together.
Wedding Lasso as a Dominican Republic Wedding Tradition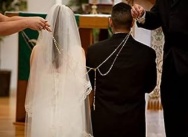 The wedding lasso, known as "El Lazo," is a beautiful ritual representing the unbreakable bond between the bride and groom. A floral garland or rosary is draped in the shape of a figure-eight over the couple's shoulders, symbolizing their eternal unity and the journey they will embark on together. The lasso is often made from flowers or fabric, creating a visual and meaningful centerpiece during the ceremony.
Traditional Music and Dance as a Dominican Republic Wedding Tradition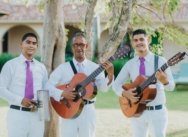 Infuse your wedding celebration with the infectious rhythms and joyful melodies of traditional Dominican music and dance. Engage local musicians or dancers to perform at your wedding, entertaining your guests with merengue, bachata, or salsa. You can also encourage your guests to join in on the fun, creating a lively and unforgettable dance floor experience.
Guayabera Attire – Dominican Republic Wedding Tradition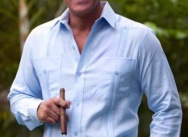 The groom and male members of the wedding party can don the traditional Dominican attire called the "guayabera" for a touch of cultural elegance. This lightweight, button-down shirt features intricate embroidery and pleats, making it a stylish and comfortable choice for a Caribbean wedding. The guayabera adds a distinctive and refined flair to the groom's outfit, complementing the overall ambiance of the celebration.
Dominican Cuisine – Dominican Republic Wedding Tradition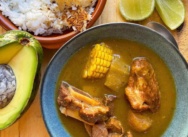 Treat your guests to a feast of authentic Dominican cuisine, showcasing the diverse flavors and culinary delights of the island. Incorporate dishes like "La Bandera" (rice, beans, and meat), "Mofongo" (mashed plantains), and "Sancocho" (hearty stew) into your wedding menu. Including local delicacies allows your guests to savor the tastes of the Dominican Republic while immersing themselves in the country's culinary heritage.
Carnival-Inspired Decor – Dominican Republic Wedding Tradition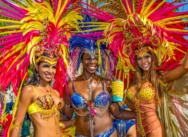 Infuse your wedding decor with the vibrant and colorful spirit of Caribbean carnivals. Incorporate bright hues, feathers, masks, and confetti into your table settings and centerpieces. Decorate with palm leaves and tropical flowers to create a festive and carnival-inspired atmosphere, bringing the joyous celebration to life.
Incorporating local Dominican Republic wedding traditions into your destination wedding not only adds a touch of cultural richness but also creates lasting memories for you and your guests. From the meaningful Arras ceremony to the lively dance of merengue, embracing these traditions adds authenticity and charm to your big day. Celebrate the beauty of love and the vibrant spirit of the Dominican Republic as you say "I do" in this enchanting Caribbean paradise.
With love,
Caribbean Wedding and Events Agency
caribbeanwedding1@gmail.com, +1 (829) 805 2170