Punta Cana Weddings and Events
The best wedding planning agency in Punta Cana, Dominican Republic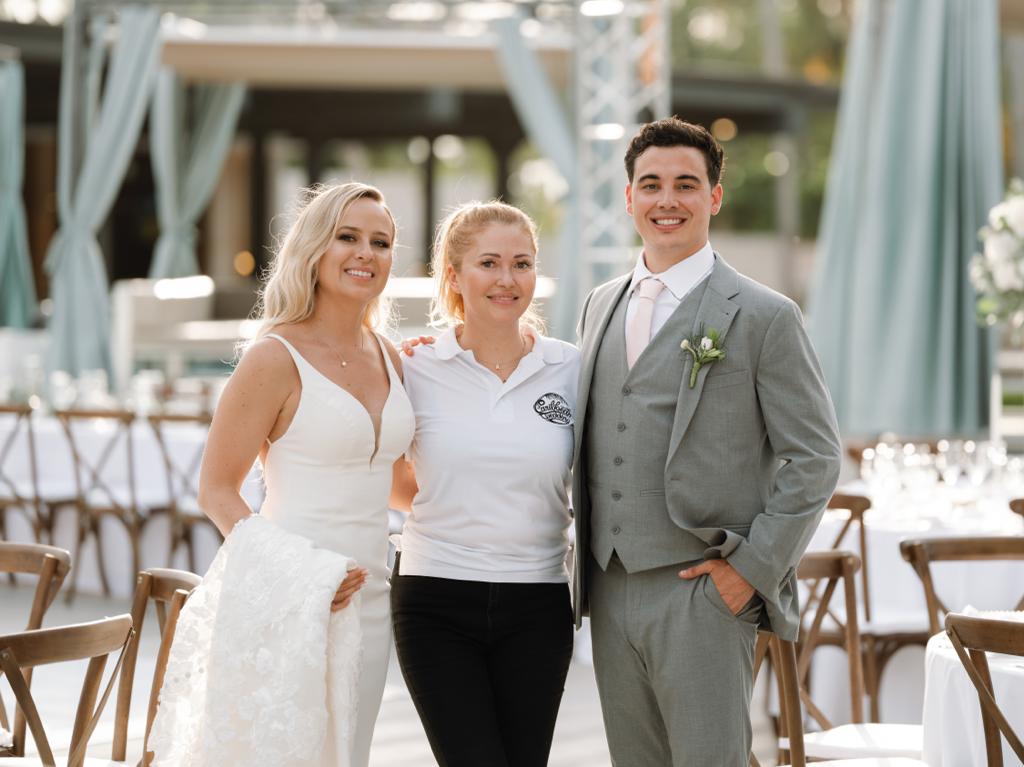 Caribbean Weddings & Events Agency stands as the esteemed wedding planning agency in Punta Cana, Dominican Republic.
We pride ourselves on delivering exceptional customer service with a specialization that encompasses civil, religious, non-religious, cultural, eco-friendly, LGBTQ+ destination weddings & events. Furthermore we also organize birthday celebrations, bridal and baby showers, vow renewals, and much more.
Moreover we believe that every celebration should be seamless, beautiful, and stress-free, and our track record reflects our dedication to achieving this. Please take a look to our services we provide.
Marriage proposal in Punta Cana
Our Caribbean Wedding & Event Agency specializes in curating unforgettable marriage proposals in Dominican Republic as well. From hidden beach coves to lush tropical gardens, we transform your dream proposal into a reality. In addition to we ensure that every detail is perfect and every moment is cherished. Let us weave the enchantment into your special moment, creating memories that will be treasured forever. Check our all inclusive marriage proposal packages here. Again we look forward to the opportunity to bring your dream proposal to life too.
Elopements and Intimate Weddings in Punta Cana
Craft your perfect elopement in the Dominican Republic with the expertise of our event agency. Whether you envision a romantic beach ceremony or an intimate exchange of vows, we specialize in creating elopements that capture your love story's essence. Thus we"ll organize your small intimate destination wedding in Punta Cana, and you can focus on cherishing every moment of your special day. Important to know that we offer a private beach for elopements in Punta Cana. In addition to you can see our all inclusive elopements packages here.
Weddings in Dominican Republic
Birthday organization in the DR
Make your birthday extraordinary with our Caribbean Wedding and Event agency's tailored birthday celebrations in the Dominican Republic. From vibrant beach parties to intimate gatherings in tropical gardens, we specialize in curating unforgettable experiences that reflect your unique style. However let us create a birthday celebration that captures the essence of you, while you relax and enjoy every moment of your special day. Besides you can see the information here.
LGBTQ Weddings and Events
Our Caribbean Wedding and Event Agency is a trusted expert in organizing inclusive and unforgettable LGBT events – proposals and weddings. With a deep commitment to diversity and equality, we specialize in curating celebrations that honor love and identity. Not only-but also we create an event that resonates with your unique vision, where every detail reflects the beauty of your story and the spirit of unity. Then see more information about LGBT weddings & proposals here.
Punta Cana Photographers Photo & Video
Immerse yourself in the art of storytelling with our event agency's top-notch photo and video services. From capturing candid emotions to highlighting the smallest intricacies, our expertise lies in creating enduring memories. Thus allow us to become your visual narrators, guaranteeing that your cherished moments are meticulously documented. Consequently, you'll be able to revisit and relive them for many years to come. See more information about wedding Photography in Punta Cana and wedding Videography in Punta Cana.
Punta Cana Party – Celebrations in the Dominican Republic
Elevate your celebrations in the Dominican Republic with our Caribbean Wedding and Event Agency's expert touch. From milestone birthdays to anniversaries and special occasions – Baptism, Sweet 15th, Bar Mitzvahs, anniversaries, of course we specialize in curating unforgettable experiences tailored to your desires. Let us transform your celebration into a cherished memory, while you bask in the beauty of this tropical paradise.
Corporate events in Punta Cana – Punta Cana Event Planner services
Transform your corporate events in the Dominican Republic with our expert touch. Whether it's team-building retreats, conferences, or product launches, we excel in crafting flawless experiences that resonate. Also entrust us with the details, allowing you to concentrate on your business objectives amid the breathtaking setting of this Caribbean paradise.
Certainly at our Caribbean Weddings & Events Agency, we're here to turn your dreams into reality in the stunning backdrop of Punta Cana. Whether you're envisioning a breathtaking wedding, a heartwarming marriage proposal, a memorable birthday bash, or any other special event, we're excited to be your trusted partner in crafting unforgettable moments. In fact your special day deserves nothing but the best, and we're here to make it happen.
Reach out to us and let's start the journey towards planning an event that reflects your unique style and story.
Above all, our dedicated team is here to make your vision come to life. And we can't wait to create something truly magical together.
Get in touch with us, and let's embark on this exciting adventure!