The Ultimate Guide to Planning a Beach Wedding in the Dominican Republic
A beach wedding in the Dominican Republic promises a romantic and picturesque celebration against the backdrop of turquoise waters, soft sandy shores, and warm tropical breezes. With its stunning coastal landscapes and vibrant culture, this Caribbean paradise is a dream destination for many couples. If you're considering a beach wedding in the Dominican Republic, this ultimate guide will help you plan a memorable and stress-free celebration.
Choosing the Perfect Beach Location for the wedding in Dominican Republic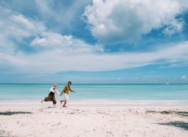 The Dominican Republic offers an array of beautiful beach wedding locations to suit every couple's vision. Research popular beach destinations like Punta Cana, Bavaro, Juanillo, or Samaná, each offering its unique charm and ambiance. Consider factors like the accessibility for your guests, available amenities, and the level of privacy you desire when choosing the perfect beach location.
Selecting a Beachfront Resort or Venue for the wedding in DR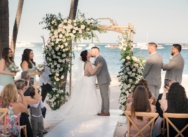 Many Venues in the Dominican Republic specialize in beach weddings, offering a range of packages and services tailored to your needs. Look for beachfront venues and hire experienced wedding planner, who can assist you with planning and logistics. Visit the venues personally or request virtual tours to get a sense of their facilities and offerings.
Planning the Wedding Timeline for your beach wedding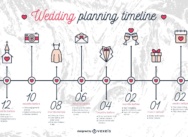 Keep in mind that beach weddings are often influenced by weather conditions and tide schedules. Plan your ceremony during times with favorable weather and gentle tides to ensure a smooth and enjoyable experience. Consider sunset ceremonies for a romantic and magical setting, and be sure to communicate the timeline to your guests in advance.
Beach-Friendly Attire for the beach wedding in DR
Choose beach-friendly attire for you and the wedding party. Opt for lightweight, breathable fabrics that suit the tropical climate. For the bride, consider flowy and lightweight dresses that won't be cumbersome on the sand. Grooms can go for linen suits or relaxed dress shirts paired with trousers. Inform your guests about the beach setting, so they can dress comfortably and appropriately.
Decor and Setup for the wedding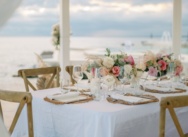 Let the natural beauty of the beach be the centerpiece of your decor. Incorporate simple and elegant elements that complement the surroundings, such as driftwood, seashells, and tropical flowers. Avoid elaborate setups that may be challenging to manage on the sandy shores. Bamboo arches or floral arrangements can add a touch of elegance without overpowering the natural scenery.
Seating Arrangements and Comfort for your Beach Wedding in the Dominican Republic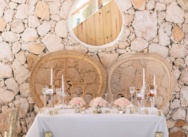 Consider providing comfortable seating options for your guests, such as beach-friendly chairs or cushions. If you're planning a larger wedding, you may want to set up a designated aisle for the ceremony. Be mindful of sun exposure during the ceremony and provide shaded areas for guests to retreat from the heat if needed.
Weather Contingency Plan for the Destination Wedding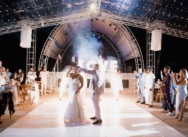 While beach weddings boast idyllic scenery, weather can be unpredictable. Have a backup plan in place for potential rain or strong winds. Many beachfront resorts offer indoor venues as alternatives or can arrange a temporary tent setup for shelter.
Embrace Local Dominican Republic Culture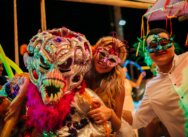 Incorporate elements of local Dominican culture into your beach wedding to add authenticity and charm. Consider incorporating traditional Dominican music and dance into your ceremony or reception. Serve local cuisine and drinks to give your guests a taste of the vibrant island culture.
Planning a beach wedding in the Dominican Republic allows you to create a magical and memorable experience for you and your guests. From choosing the perfect beach location to embracing local culture and selecting beach-friendly attire, careful planning ensures that your dream wedding unfolds seamlessly against the breathtaking backdrop of this Caribbean paradise. With the sun, sand, and sea as witnesses, your beach wedding in the Dominican Republic will be a cherished memory that lasts a lifetime.
With love,
Caribbean Wedding and Events Agency
caribbeanwedding1@gmail.com, +1 (829) 805 2170