North Region: Puerto Plata, Sosua, Cabarete, Cabrera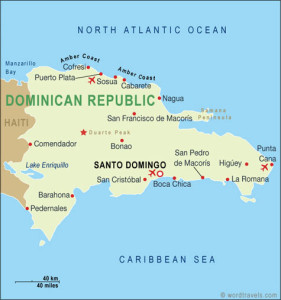 Puerto de Plata is the ninth-largest city in the Dominican Republic, and capital of the province of Puerto Plata. The city serves as one of the most important trading ports in the country. Puerto Plata is famous for resorts such as Playa Dorada and Costa Dorada, located east of Puerto Plata.
Many years ago Puerto Plata used to be the Capital of Dominican Republic and before Punta Cana, it was the most popular tourist destination in the country. Having an international airport in Puerto Plata with many scheduled flights from USA and Canada daily arriving, makes travel easy and affordable for you and your guests.
Cabarete is a small, laid-back beach village, neighboring Sosua, located only 30 minutes away from the Puerto Plata International Airport. It's a perfect combination of relaxed and adventurous lifestyles. Most popular activities are kiteboarding and windsurfing, mountain-biking, cascading and just about any other active sport. Cabrera are located 1,5 hours away from Puerto Plata all-inclusive hotels and the international airport.
Please email us caribbeanwedding1@gmail.com to find out more about the North wedding venues and villas.