Samana & Las Terrenas wedding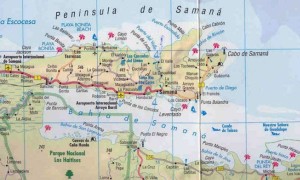 Peninsula Samana
Samaná is a natural treasure, is a peninsula located in the north-East of Dominican Republic. Wild, verdant, with coves, bays, waterfalls, mountains and awe-inspiring views – there is lots to explore. It is known for its wading and body-boarding beaches, nature trekking and whale-watching.
Most popular areas in the Samana region are Las Galeras and Las Terrenas, as well as the beatiful Bacardi island, 90% of which is taken up by 5 star Grand Bahia Cayo Levantado resort.
There is an international airport of Samana located on the peninsula, making it easy for you and your guests to travel there. In the entire Samana region Las Terrenas is by far our most favorite area to organize weddings. There are numerous private villas located there, which can host large groups of people. Amongst other activities, the most popular are: Waterfalls swimming, Sailing, Scuba Diving, Whale watching, Cave discoveries, Safaris and Deep Sea Fishing.
Please email us caribbeanwedding1@gmail.com to find out more about Samana wedding venues and villas.